Discover the joy of Crete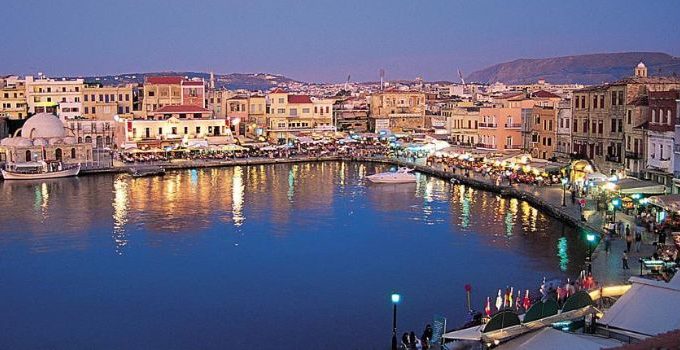 Chania
Chania is the second largest city of Crete and the capital of the Chania regional unit. It lies along the north coast of the island, about 70 km (43 mi) west of Rethymno and 145 km (90 mi) west of Heraklion. The official population of the municipal unit (the former municipality) is 53,910, while the municipality has 108,642 inhabitants (2011). This consists of the city of Chania and several other towns and villages, including Kounoupidiana (pop. 8,620), Mournies (pop. 7,614), Souda (pop. 6,418), Nerokouros (pop. 5,531), Daratsos (pop. 4,732), Perivolia (pop. 3,986), Galatas (pop. 3,166) and Aroni (pop. 3,003).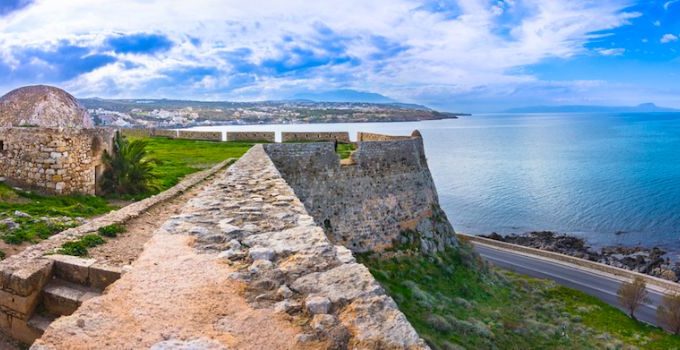 Rethymno
Rethymno is a city of approximately 40,000 people in Greece, the capital of Rethymno regional unit on the island of Crete, a former Latin Catholic bishopric as Retimo(–Ario) and former Latin titular see. Rethymno was originally built during the Minoan Civilazation (ancient Rhithymna and Arsinoe). The city was prominent enough to mint its own coins and maintain urban growth. One of these coins is today depicted as the crest of the town: two dolphins in a circle.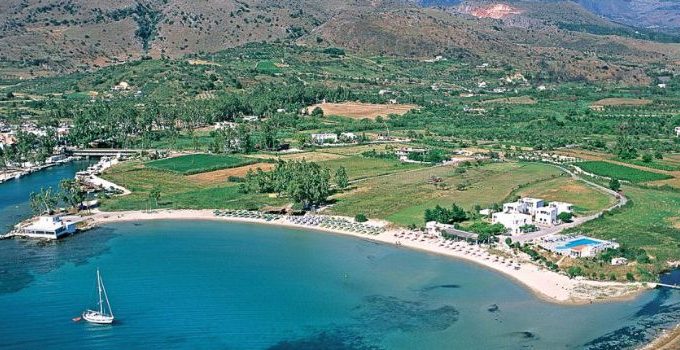 Georgioupolis
Georgioupolis is a resort village and former municipality in the Chania Regional unit, Crete, Greece. Since the 2011 local government reform it is part of the municipality Apokoronas , of which it is a municipal unit.The municipal unit has an area of 53.498 km2 (20.656 sq mi).It is located 43 kilometres (27 miles) east of Chania, about 22 km (14 mi) west of Rethymno and about 100 km (62 mi) west of Heraklio in the Apokoronas region. It was named after Prince George of Greece, high commisioner of the island in the last years of Ottoman occupation.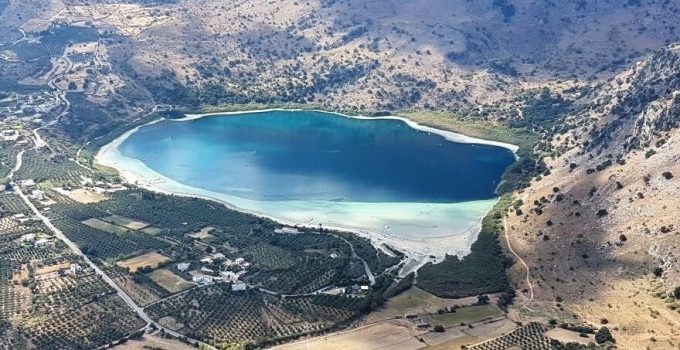 Kournas Lake
Kournas Lake is the only freshwater lake in Crete. The lake is fed by water coming from the nearby White Mountains outpouting from two springs on its southeast bank. It lies in a small valley among mountains and high hills, near the village of Georgioupolis, 43km east of Chania and 20km west of Rethymnon city.The lake used to be called 'Korisía' after ancient 'Korion', a city thought to be in the area with a temple dedicated to Athena. The lake is a protected area by the Natura 2000 Network due to many rare species which find shelter there. It used to be full of eels and now hosts mostly ducks, water snakes, a rare species of terrapin, occasionally herons and cormorants. The dark color of the water is caused by seaweed. A small sandy strip appears at the shore in summer, while in winter the nearby trees and bushes sink under water.
Archaelogical Museum of Irakleion